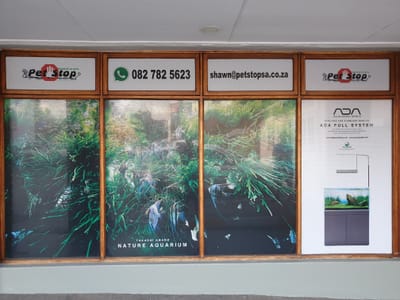 Pet Stop SA was established in the year 2000. We grew from a shop that was about 60 square meters to 277 square meters. Our tropical department has 62 aquariums with a total water volume of 11 000 liters. Rasta is the person in charge of this department.
We have a team of two people that only manufacture aquariums on a daily basis. These guys are busy every day and luckily for us they don't have a single day that they say they don't have any work to do.
We are truly blessed with the support we get from all our customers country wide. Pet Stop SA couriers live stock all over the country, either via air freight or if you are close enough via overnight courier.
We are a dedicated team that believes that every customer must be treated with dignity and respect. We also pride ourselves that we are truthful to customers and will never give false information to any customer.